Funding
---
SHEPP is a defined benefit pension plan, which means your benefit amount is determined by a formula based on eligible earnings and service. This defined benefit formula means that you can expect a predictable monthly income for life when you retire with a SHEPP pension.
As a result, SHEPP must consider how it will fund benefit obligations that exist 70 or so years in the future as today's youngest members near the end of their lives. Funding is truly a long-term and ongoing consideration that requires careful monitoring to ensure SHEPP is securing member benefits now and into the future.
Funding Your Pension Benefit
Your SHEPP pension is funded through a combination of contributions and investment returns, which are referred to as the Plan's assets. SHEPP's liabilities are the benefit obligations we have to our members.
Under The Pension Benefits Act, 1992 (Saskatchewan), SHEPP is required to perform an actuarial valuation at least every three years, which looks at the Plan's assets and liabilities to determine if sufficient funds have been set aside to cover future benefit obligations. These valuations determine the financial position of the Plan and the contribution levels required to maintain long-term funding. In the end, the Plan is shown to either be fully funded, in a surplus position, or have an unfunded liability.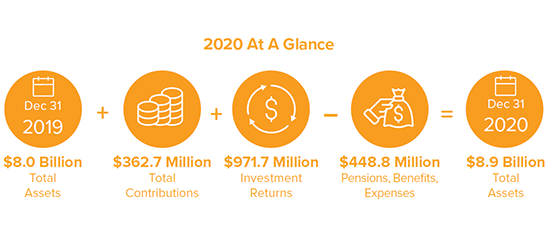 The Funding Challenge
In recent years, many defined benefit pension plans have faced funding challenges, including SHEPP. Market volatility and low interest rates have adversely affected fund assets, while decreases in the discount rate and longer life expectancies are causing pension liabilities to increase. Since the global financial crisis, SHEPP has been working hard to restore the funded status of the Plan. In SHEPP's most recent valuation performed as at December 31, 2017, the Plan was 95% funded on a going-concern basis - an improvement from 91% in 2015. SHEPP's unfunded liability also decreased to $385 million. As a result, no increases to contributions were required.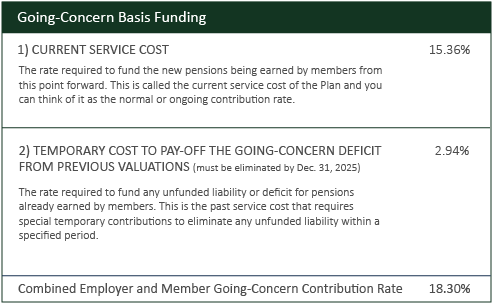 SHEPP has been permanently exempt from having to fund on a solvency basis. However, a solvency valuation must be completed to determine a solvency ratio used in calculating current transfer deficiency holdbacks. The valuation determined that the Plan's assets are 72% of liabilities on a solvency basis. Therefore, certain terminating Plan members will have a 28% transfer deficiency holdback applied for five years following the date of initial lump-sum benefit payment from SHEPP.
SHEPP is working hard to eliminate the unfunded liability and return the Plan to fully funded status. The next actuarial valuation is required as of December 31, 2020.
Our Funding Philosophy
The primary objective of the Board of Trustees' Funding Policy is to secure member benefits, and the secondary objective is to stabilise contribution rates. SHEPP's Board and Administration continue to work closely with the Plan actuary and investment consultant to manage investment risk and optimise the Fund's asset mix to ensure a sufficient rate of return without exposing the Plan and its members to excessive volatility.
With this policy in place, the Fund has more than doubled between 2010 and 2017 from $3.4 billion to $7.2 billion, and SHEPP continues to make meaningful progress toward fully funded status.