Investments
Investing for the Future
Securing the benefits promised to members is a top priority of SHEPP's Board of Trustees, followed closely by stabilizing contribution rates. To accomplish this, the Board employs a prudent investment policy focused on earning sufficient returns without excessive risk and volatility. SHEPP's assets are invested in accordance with the provisions of The Pension Benefits Act, 1992 (Saskatchewan) and the Board of Trustees' investment objectives and philosophy, which are set out in its Statement of Investment Policies and Procedures. As of December 31, 2022, the SHEPP Fund had an approximate market value of $9.3 billion, making it the largest defined benefit plan in Saskatchewan.
A Diversified Portfolio
Striking the right balance between risk and return is a challenging balancing act. The Board regularly monitors the funded status of the Plan, as well as investment performance. Because investment characteristics change over time, the Board also performs periodic asset-liability studies to re-examine the risks and rewards of the current asset mix and make adjustments to the long-term target asset mix as necessary.
All of this has led to further diversification of our asset mix to help mitigate the likelihood of unfavourable investment performance in the future. Specifically, the Board recently increased the Fund's diversification within real estate, fixed income, and foreign equity.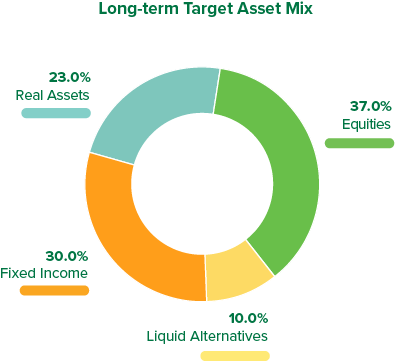 For more information refer to the Summary of Investments and Investment Managers.
Fund Performance
In 2022, high inflation and rising interest rates caused stress on financial markets. SHEPP's investments surpassed expectations in an extremely challenging environment, performing 3.1% over benchmark and resulting in total assets of $9.3 billion at year-end.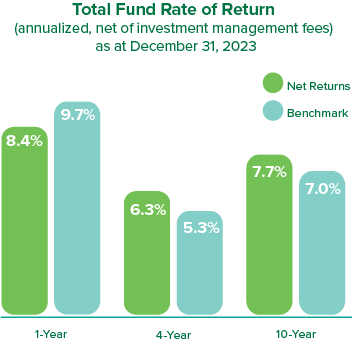 Browse SHEPP's Annual Reports for more financial details.